Customer Testimonials 

Please send your testimonials to: Danica@AngelicHealingByDanica.com

 

 

 

 
Danica is an extremely gifted light worker and healer she cleared out my chakras and was able to pinpoint certain situations that had resulted in needing to cut etheric chords with the Archangels.  Bless you Danica, you have given me much clarity and restored my faith, bless you five stars ⭐️⭐️⭐️⭐️⭐️ -Rose P. 
 

 

 

 

 

 

 

 

 

 

 

 

 

 

 

 

 

 

 

 

 

 

 

 

 

 

 

 

 

 

 

 

 

 

 

 

 

 

 

 

 

 

 

 

 

 

 

 

 

 

 

 

 

 

 

 

 

 

 

 

 

 

 

 

 

 

 

 

 

 

 

 

Review for the crown chakra clearing audio ceremony:

This was a very thorough session!
Angel Danica is very intuitive and caring. She conveyed the messages I needed to hear and knows what exactly I am going through and what changes I need to make. Highly recommended!
Below Are Testimonials from my previous website www.BlissfullyAngelic.com
Thank u so much I recently received my bracelets and gorgeous earrings they are absolutely amazing thank u again! XO Jennifer  
 Danica's angel jewelry is beautiful! I especially love the royal blue Archangel Michael bracelet and red Archangel Chamuel bracelet. The colors just glow!
I even received a pair of Archangel Gabriel purple crystal earrings! Thank you, Danica!
the site is very easy to use, i will recommend it to friends and the postage was very quick to arrive.. great experience... thanks :)
I have received my order. Thank you so much for the added beautiful gift of angel earrings....since I am a jeans and t-shirt kinda gal, they are perfect for me.
Love Danica and everything she dose.
very beautiful good quality worth every penny ,i will recommend this site to all my family and friends
Everything is so easy and very fast delivery. The bracelet I got is very nice, I only wish they would have sent the information that was on the site about the stones and the angle. I really thought that would compliment the gift .
Very good, very fast and easy.
I felt very happy when I received my order.
Thank you very much for the earrings, they are so beautiful.
Love all your designs! High quality beads and all are so beautiful!
Great customer service. Looking forward for my reading.
I am really happy with my reading that Danica has given me. Will be purchasing some jewelry next.
Very easy to check out! Love the jewelry!
Super easy to find what I was looking for and this jewelry is very unique and so beautiful!
I truly enjoy the orders and having my Angels around me visually as well. Each product is handmade and I like that. The devotion that is put in to each bracelet, necklace, earrings etc.
I love the items I have purchased previously and everyone has admired them, thank you!
Easy to navigate. I am also grateful that you ship to P.O. Boxes!
Wonderful items and I love each and everyone. Danica is very helpful and cares about her customers. Michelle
I am very happy with my reading. Thank you again Danica for giving me peace and clarity.
Great selection and prices.
Very happy with my order!
Very good, very fast and easy.
I felt very happy when I received my order.
Thank you very much for the earrings, they are so beautiful.
This is my first time shopping with you the transaction was done on my cell phone and it was better than from a PC! Great app! Estrella C
My order was delivered sooner than I had anticipated. The jewelry is gorgeous and I would order from Danica again.
Far exceeded my expectations on the prompt professional and caring service provided.
Danicas jewellery is exquisite.
Thoroughly recommend BlissfullyAngelic.com to everyone.
My shopping experience was very positive, merchandise is great. Will re order and refer friends to you also. Thanks
Loved the variety and that I was able to save a couple of dollars too.
Dear Danica, Beautiful Lightworker ~
THANK YOU ever so much, I just received my beauuuuutiful Clear Quartz and Angelite wrap bracelet today and a lovely pair of earrings for an added bonus, HOW NICE! :) It was wrapped so prettily too.
As soon as I saw the picture of your bracelet, I felt very pulled towards it and it is just "singing" on my wrist right now. You even put in 2 extra wraps for me, bless you. It wraps around my wrist 4 times - a lovely angelic number. I really hope it helps me communicate with my angels, I am sure it will.
I am overjoyed with my purchase!!! I feel completely loved by the angels  xoxoxo 
Thank youuuuuu, Bless youuuuu and MANY Angels Blessings and Angel Kisses to you.
-Susan from San Jose, CA :)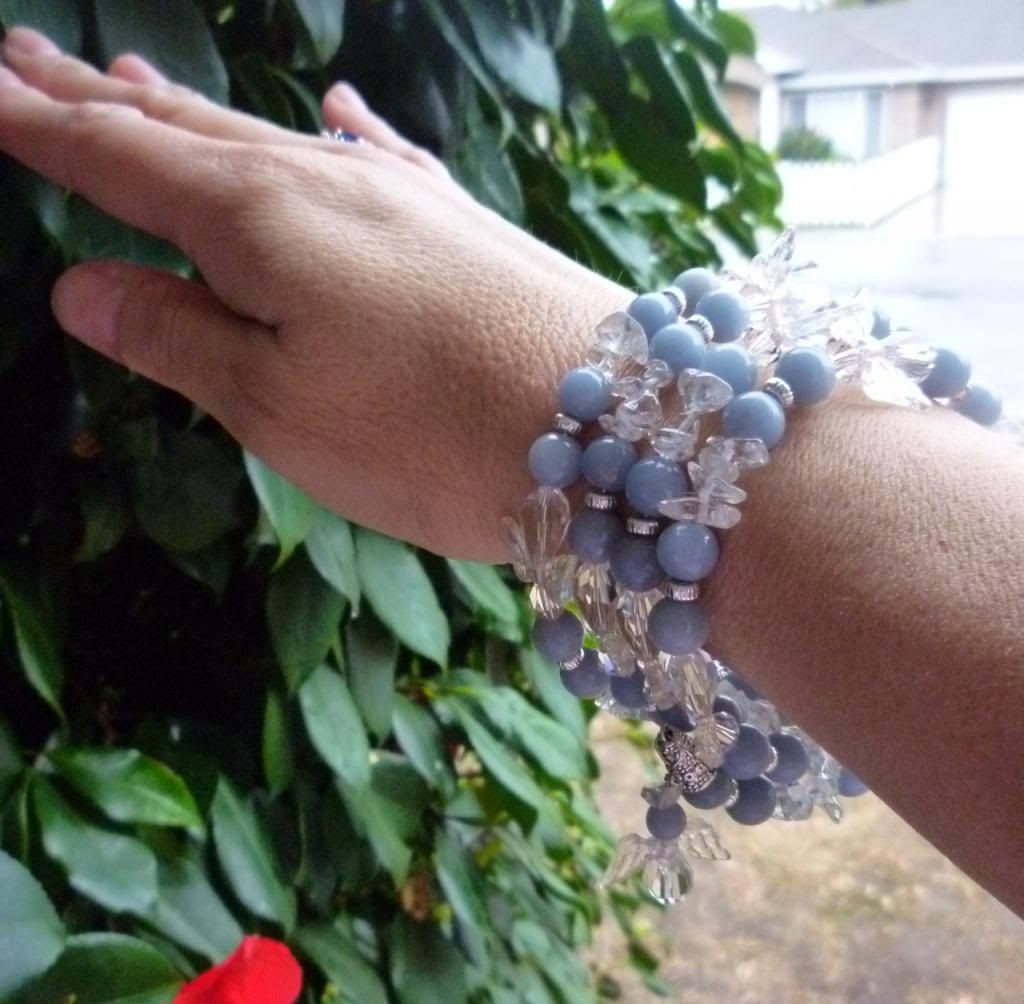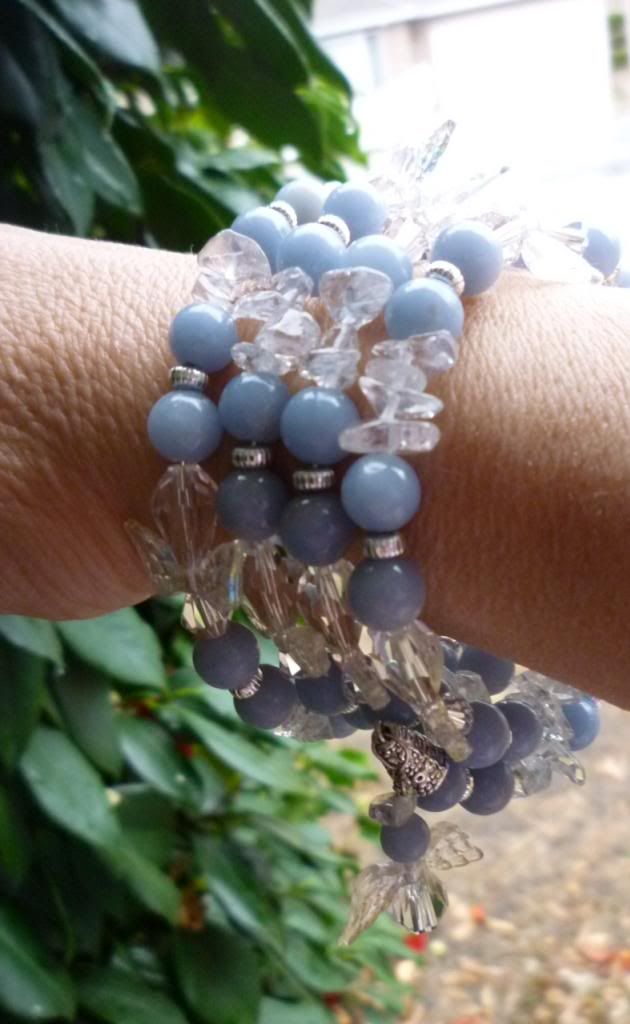 ---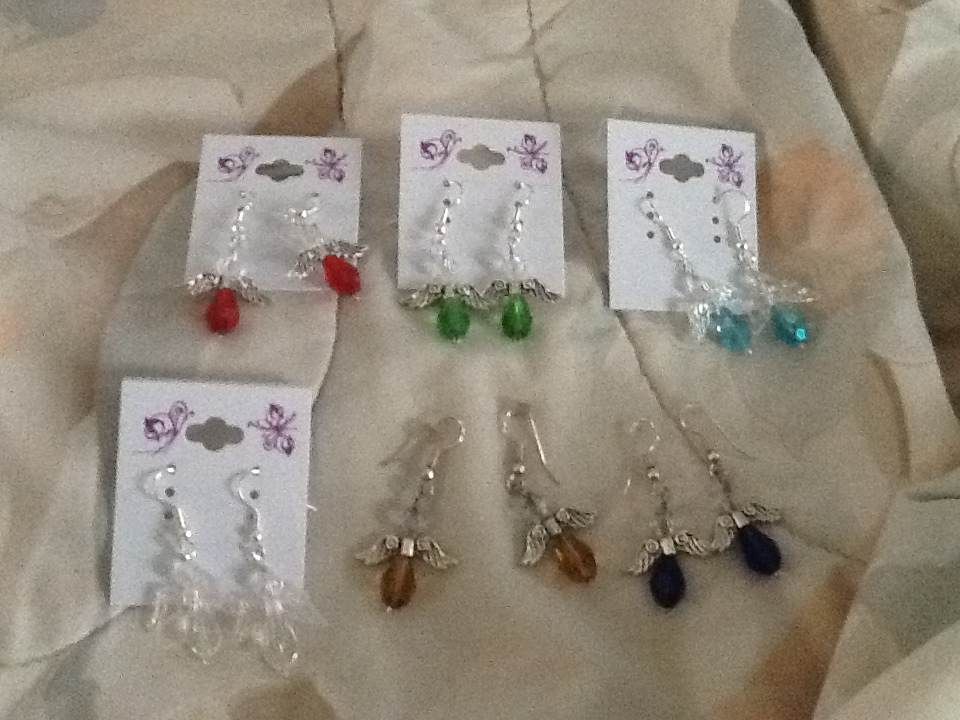 Dear Danica,Thank you for my Beautiful Earrings I just received ! In April purchased Archangel Uriel and Archangel Michael , which got me so many compliments on. I Usually don't wear hanging or dangling, however having the Angels close to me, I had to purchase Archangels Chamuel + Raphael , 2 pair of Guardian Angel earrings. I Love my Angelic Jewelry
---
"Ordered the Archangel Gabriel Amethyst Bracelet for my wife, she absolutely loves it! Delivery was extremely quick (to the UK) and everything was packaged really well. The quality of the bracelet is fantastic will definitely be shopping here again. Thank you!!"

 

Thank you

 
---
The two wrap bracelets arrived today.  They are absolutely lovely.  And many thanks for the complementary earrings that match.   I will begin wearing them today and write my stories.  You are part of that gift regaining attention.

Best to you and your business, Mo
---
I waited all week for these!!!
Thank you Lightworker Danica!!
God Bless You Sis!
#BlissfullyAngelic.com
It is absolutely beautiful! I've been wanting an angel bracelet and earrings. These are just perfect. ~Lupe
---

I am thrilled to know another round of angelic blessings is on its way to me from Danica! The angelic signs and blessings that I have gotten from my several other wrap bracelets Danica made for me.. as well as gifts I have bought for friends from her ... are amazing! Her hands have a truly Godly and angelic touch, the minute you see and wear this handmade jewelry, you know something wonderful will happen! Her selfless gifts of continual discounts is a blessing, she truly wants to spread the messages she is getting from above .. and this is a beautiful way she does just that. Thank you Danica, for your kindness, selflessness, and for your unconditional love. You are truly one of God's own. Sending you all my love and thanks..always.. Alicia xoxo
---
I Love my bracelet! Thank you so much! The earrings are gorgeous as well! ♥ Angela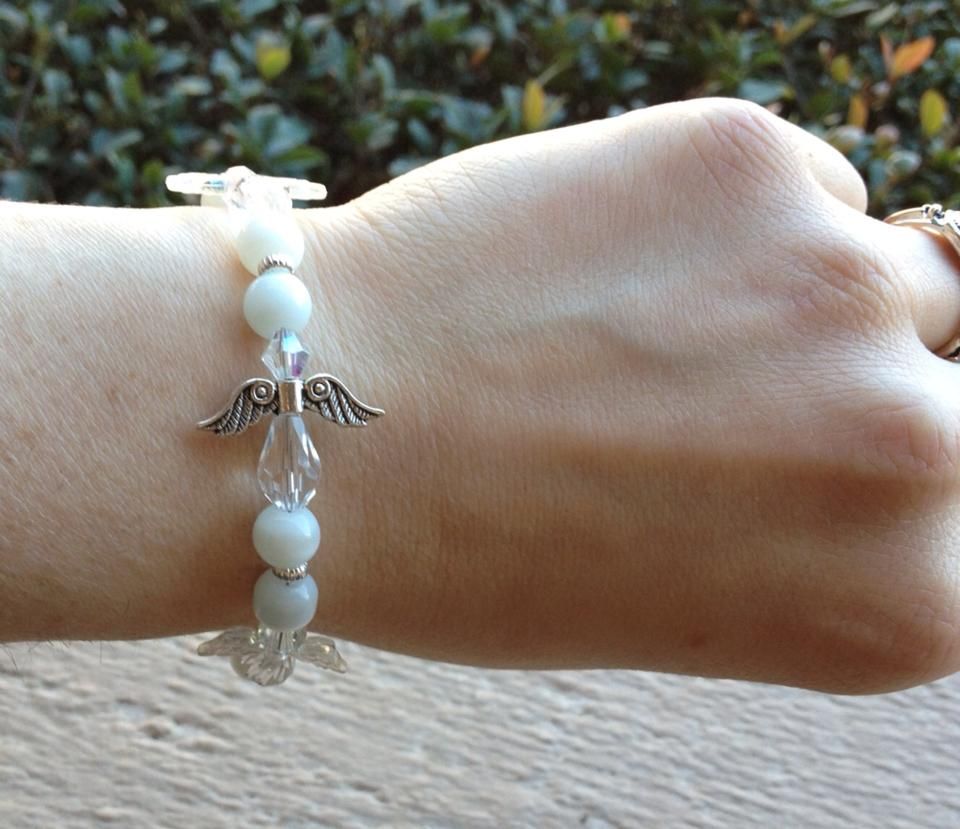 ---
Enjoying my pretty, new angelite bracelet. Thanks! Kendra H.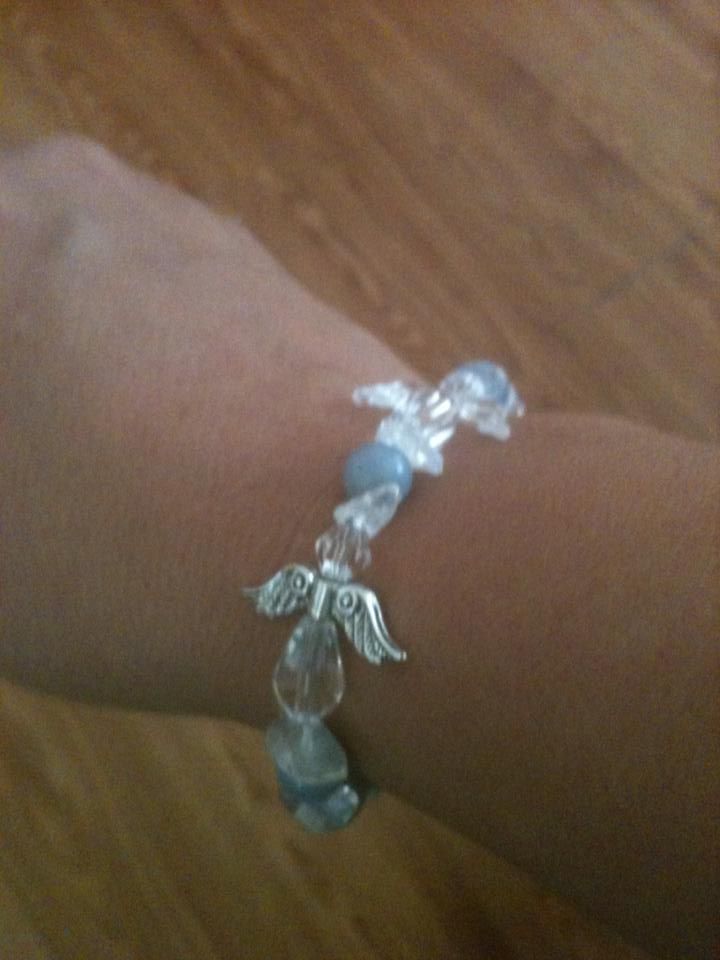 ---
Dear Danica, 

Thank

 you for the beautiful earrings and bracelet. They were the perfect accessories for Lilly's first communion! Thank you again for your kindness. Many joys and blessings to you! ~Anna

---
I Love my new bracelets & earrings!! Thank you so much! You make beautiful jewelry :) I get so many compliments! Wearing these helps remind me the Angels are always with me & I've been needing them a lot lately. :) Thank you! ♥ Angela
---
Hi Danica 
Thank you s I much for the absolutely gorgeous jewelry. I was so surprised that you included several sets of free earrings!! I know you advertise that you include free set with necklace purchased however I truly did not expect one with each necklace and bracelet I purchased! I can feel the warm, pure angelic energy in these lovely, we'll made pieces and I will definitely be purchasi jg free om you again.
---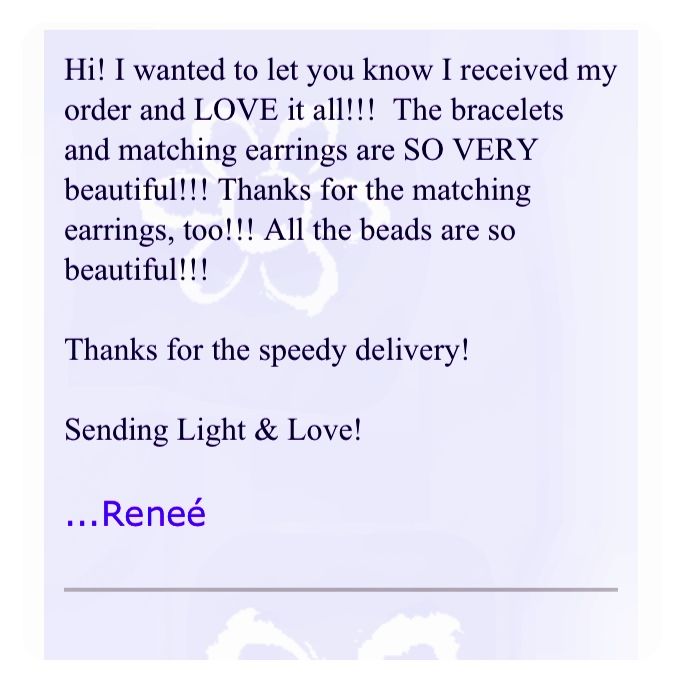 ---
I love your Angelic jewelry. I have purchased several things. The AA Raphael wrap Angelic bracelet is one of my favorite that i had purchased. I love it. I love all your stuff i bought. The earrings are very beautiful. And the necklace i bought from you is amazing. Your work is wonderful. You can tell you put lots of love and joy into your work. Penny W.


---
Danica, I got my Archangel Michael bracelet yesterday and it is even more Beautiful in person than in the picture! I cannot wait to wear it, and I plan to wear it all the time. Archangel Michael has always been here for me and I speak to him every day. He always answers me, or leads me to what I need to know. But....I wanted to thank you for your VERY kind gesture of sending me the matching earrings!! I was shocked and surprised and so VERY grateful! It really made my day so much! Thank you!! Thank you!! :) Tracy R.
---
Just as I anticipated, my earrings were here waiting for me to come home from my trip. I love them!! Thank you for always doing a beautiful job! The stone is one of my favorites, and the silver wires you used are so shiny! I've already worn the rose quartz out last night and got a few compliments! You're such a sweetheart to include the free pair too. They're darling with the hearts, I'm going to give them to my Grandma. I know she'll like them! Also, your packaging is really thoughtful! I appreciate you wrapping them up so nicely. I love the new sleeves the earrings come on! ♥ April
---
Danica, the bracelets arrived and they are beautiful!  Thank you for enclosing the earrings that match.  Your work is lovely!  Thanks again, Kathy
---
Danica: My new wrap bracelet and Archangel Michael necklace arrived today. I have to say that the necklace is more beautiful in person than what the picture shows, I am so excited to wear it. Also the wrap bracelet just sparkles. Thank you so much, I can see the extra care that you put in making it. Again I hope you have a wonderful, angle-filled New Year. We will be in touch. Thanks again for the awesome 
jewelry
. LuAnn Jansen
---
I had the Distance Chakra Balancing and Cleasing Healing ceremony done and it was the most amazing experience I have ever had. I could actually feel when Danica and the Archangels were working on the chakras that were blocked or closed, but I focused on my breathing and relaxed and fell asleep. I woke up about 30 minutes after the ceremony was over. I felt tired and drained for a couple of days but I listened to my body and rested as I needed and drank plenty of water. I have slept like a baby every night since the ceremony, its wonderful!! I have gained energy, I'm happier than I have been in years and my intuition has been sharper. I would gladly have this done every month if I could. If there is anyone questioning or wondering if they should have this ceremony done STOP questioning or thinking about it and DO IT!!!
It is amazing and you will feel so much better.
I knew about chakras and what they did, but I never realized the impact they made on your body, mind and spirit once they were all open and working together the way they are suppose to.
Thank you so much Danica!! You are truly Heaven sent!
Love and Light,
Nancee
---
I had the Chakra Clearing and Balancing done by Danica, and I must say after this was done, I feel great and Lighter. I knew I had some issues, with communication, and prior to the healing being done, Danica, had tapped in and saw that my throat chakra was blocked. I sat at relaxed at the time Danica, said the healings was to be done, and I felt tingly all over, as the Angels worked on me and Danica also saw my Solar Plexus Chakra as being blocked as well, and she advised what was causing that, that someone had taken away my power (I allowed that to happen) and she suggested a cutting of cords with that person, and I will follow through on that. I really enjoyed this experience, as Danica, was really caring and Loving in regards to my needs, and I'm so grateful for the gift and contribution that Danica is. Love and Blessings Charles 
---
I wanted to THANK YOU for my reading AND for the gorgeous jewelry you made... I LOVE ALL THE ANGELS (and the extras too) ... You are VERY KIND... The jewelry SURPASSED my expectations... I was oohing and aahing over every piece and put on my bracelet immediately. I'll be ordering more bracelet soon for members of my family. You have been truly inspired by the angels with the jewelry you have made. BLESS YOU and thank you for making them affordable !! ; ))
Sincerely,
Mary
---

I just received my order and the bracelets are beautiful. I will give two of them to my granddaughters.
And thank you for the beautiful ear-rings, too. They make perfect gifts.
~Elaine

---
Hi Danica, got my beautiful angel jewellery !! My friend Sam will love them :) and I'm wearing my earring 

gift

 today so thank you kindly
Much love Denise
---

Hi Danica; Received the Archangel Michael bracelet and earrings today. Thank you so much for all of them. They are more beautiful than the picture. I am so looking forward to wearing both of my bracelets now. You are extremely talented, and I am sure the angels approve totally. ~LuAnn~
---

Hi Radiant Angel Danica I received my 

angel earrings

 today & they are FABULOUS I was so trilled to receive them just in time for my birthday :) thank you , cant wait to order more ♥ Denise Kelly
---


Lovely Angel, I have just received my Gorgeous Angelic Necklace & Bracelet Absolutely Stunning!! Thank you sooo very much!!! Many Blessings to you xoxo Jenny


---
My guardian angel bracelet is absolutely beautiful. I have gotten some very positive compliments on it. Thank you so much Danica ~LuAnn
---

Dear Danica,
I received my bracelets today!! I am so happy! They are so beautiful. The Blue (Michael) one is for me, but he green (Raphael) is for a friend of mine who has been very sick for many many years with disease that are so rare it's almost unreal. So I've told her to meditate in green and breathe in green and talk and pray to Raphael. She doesn't know it yet, but I will send this to her in the mail and hopefully she will enjoy it as much as I enjoy mine. Thank you for your thoughtfulness to send the Uriel ear rings! They are lovely! I will be ordering again soon.
Blessings and much love and appreciation for all you do,
Nancy
---
Thank you sweet Angel Danica ♥♥♥♥Peace is flowing like a river...You are amazing Danica♥♥♥♥ YOU bring me Joy ♥♥♥♥
Rosalie
---

Thank you so much for my wonderful reading. You and the my Angels shed some important information through Divine Light and love. Thanking you again and many wonderful blessings for you and the wonderful work you do.
Jeanine~
---

I think I ordered just about every color available! They are beautiful and so well made. I've been wearing them everywhere...makes me feel more angelic (smile) and they remind me to listen more carefully to my angels. ;) Colleen
---

I truly want to thank you for this reading as I have been stressed and am truly trying to understand what I am to do. I will read this reading any time that I have doubts and take this message right straight into my heart. I realized that someone was protecting me in my accident as I did not get hurt and I felt a sense of peace and calm and love...if that makes sense to you. There was a dozen of eggs in my truck and not one broke also.. and this I felt surely was a message from above.
Kind Regards, Marie Conway

---
I received your incredible earrings yesterday & they are the most beautiful earrings I have ever seen. I am grateful to have got them from you.
God Bless you Danica. Karen

---
I received my Blissfully Angelic earrings today! Love them all! They're gorgeous! Thank you so much!! You're very generous to include the extra surprises! ♥ Can't wait to wear mine, and give some as Christmas gifts. April

---
Thank you Danica. These words of guidance bring peace to my heart. So thank you again. Much love & light, Justin

---
Thank you soooo much Danica! Your reading has truly helped me to realize a lot of things! God Bless you to!! Bonita!

---
Thank you Danica for doing this reading for me.....I am grateful because I can reread it and change the you's to I's to own it.....I just hope Archangel Raphael will help me with my asthma.....Julie

---
Danica- Thank you for sharing your blessing and gift of the reading. I started wheeping when I began to read it. Not bad tears, but cleansing tears, tears of relief and of release. This reading was right on the target. Yes, I have been very down on myself. The brown haired woman you see is my mom's mom, my nana. Her words and actions towards me through the years have wounded me to my core and I have had to unfortunately seperate myself from her. She has always criticized me about my belief in God and His Angels (everywhere in my home, in every room, there are figurines of Angels or pictures of Angels) I am a social worker and some of my clients gave me the nickname of 'The Angel Lady'. My nana is a dark deep black hole of negativity and so I'm sure there is a chord attached to me from her being. I so want that chord severed. My mom understands why I won't visit my nana, she's very toxic to me and again, so very negative and hurtful. My mom and dad have been divorced for over 20 years and when I told my nana that my dad had molested me from the time I was 12 until the age of 18, she never believed me and that hurt terribly. My mom knew, she didn't know how to protect me at the time, so you see, there has been a load of negativity and guilt and shame attached to me. Lots of 'stuff', but I know I am blessed by God and His Angels and the reassurance they and you have given me in this reading is very much needed and welcomed. You are such a blessing.

---
THANK YOU for taking the time to do my reading. May you always be surrounded by light, love , God and His Angels. Blessings, Dena

---
Danica-Thank you so much for taking the time to do all my readings........I wish I could have you talk to me everyday.......so I can see and hear my angels...I just feel so much sadness.....I am really thankful for all the love my angels are giving me....Julie

---
Danica, I want to take the time to thank you for your excellent reading. Perhaps the best I've ever had. I want you to know that Michael has been walking with me & protecting my heart. I was asked to move more deeply into my heart in grace & trust. As I moved more deeply there, someone very special appeared to me. A young lady named Rosalie appeared to my hearts knowing, as if by magic. I want to thank you for your guidance. Love is instantaneous & it's instant has occurred for me. Thank you! With the deepest gratitude, Justin

---
Good day Ms. Earth Angel Lady... Greetings! I am Sonia, and you shared your card reading to me..oh well, thanks be to GOD and AA Michael, done to me so tremendous things for today and positively all days of my life.... Amen and Amen.... i feel so happy and worry free despite of all money problems coming in...I know and do believed AA Michael will help me all the way.. thank you so much... Thank you so much for your very inspiring page.. again it is so beneficial for me about your readings....thanks and i am so much grateful to you Ms. Earth Angel Lady Danica and to AA Michael... TO GOD BE THE HIGHEST GLORY!! AMEN!!... Sonia Believing to Archangel Michael

---

Got my angelic earrings today. Lovely! Thank You Danica ~Dena